Top Stories
A Methodist Episcopal Church missionary society is returning 3 acres held in trust for the Wyandotte Nation since members were forced from their homes in 1843. The Blade reports the property that includes a stone church and cemetery is in northern Ohio's Upper Sandusky. A procession and ceremony marking the return to the Wyandotte Nation is set for Saturday afternoon. A document formalizing the trust agreement said the Wyandotte people wanted the missionary society to protect the church and...
Read More
Shamari Brooks' 19-yard touchdown run and a fumble recovery at the 3-yard line lifted Tulsa past Wyoming 24-21 in a wild final four minutes to snap the Cowboys' seven-game win streak on Saturday. Trailing the entire second half, Wyoming (3-1) scored twice in the fourth quarter and Sean Chambers' 15-yard run boosted the Cowboys back into the lead, 21-14, with 5:25 left in the game. Tulsa (2-2) answered with a lightning 75-yard drive, capped by Brooks' 19-yard score to lead 24-21 with 3:26...
Read More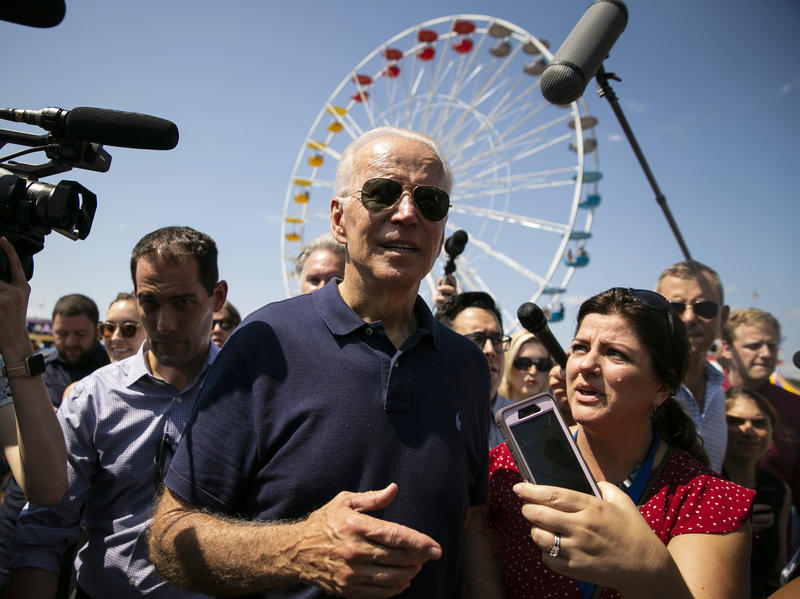 Joe Biden, the former Vice President and Democratic presidential candidate, is accusing President Trump of "an overwhelming abuse of power." Biden's comments on Saturday come amid reports that President Trump urged the leader of Ukraine, Volodymyr Zelensky, to investigate Biden's son during a phone conversation this summer. According to multiple reports, what was allegedly said during that July 25 conversation between Trump and the Ukrainian president is now at the center of an intelligence...
Read More
Listen for the next All This Jazz, starting at 9pm on Saturday the 21st, right here on KWGS / Public Radio Tulsa. Our program's third-hour theme -- running in the 11pm-to-midnight hour and Totally Undoubtedly Worth Staying Up For -- will be Trane Songs …as John Coltrane would have turned 93 on 9/23. Our birthday tribute to Trane (who died in 1967) will feature the likes of Hilton Ruiz, Steve Kuhn, Conrad Herwig, and Kurt Elling -- plus, we'll offer a taste of the soon-to-be-released (!)...
Read More
The Rhythm Atlas 2nd Birthday Special
Sunday, September 22, 6:00 - 7:00 p.m. on KWGS Public Radio 89.5 | LISTEN LIVE The Rhythm Atlas is turning 2! Join host Denis McGilvray as he celebrates the show's 2nd birthday with a special hour of well-known American and British pop and rock hits as covered by artists from all around the world. You'll hear an eclectic mix of familiar songs from the 1930s to the present in some unexpected and highly entertaining musical contexts: a 60s garage...
Read More