As Wind Energy Moves Into Eastern Oklahoma, Resistance Turns Political
Joe Bush, owner of a ranch near Shidler, Okla., has signed agreements to lease land for two wind farms. Bush worries a 2014 bill that would impose a moratorium on some wind-energy projects would prevent the wind farms from being built.
Oklahoma is one of the country's top wind-energy producers, and companies want to build more turbines across the state.
For many landowners, wind farms can be a financial windfall. But as wind energy moves into regions unaccustomed to turbines, opponents have taken the fight to the state Capitol.
Joe Bush grew up in Dallas, and he knows a lot about the energy business. During the frenzied 1980s oil boom, he worked as a tax accountant for a big petroleum company in Texas. After the bust, he started a new life as a cattleman on the ranch his grandfather built near Shidler, in northeastern Oklahoma's Osage County.
Bush's Tower Hill Ranch is named for the opportunity elevation has brought this family. Decades ago, AT&T leased land to build a microwave tower to connect long-distance telephone calls. More recently, Bush leased out land for cell phone towers. Bush hopes the next towers erected on the ranch will carry wind turbines.
"It is one of the windiest places around, and I hope they're able to do the deal," Bush says. "It'll make me whole. It'll make more money than cattle."
Joe Wertz / StateImpact Oklahoma
Turbine nacelles for a wind farm project are collecting at a staging area in Osage County.
County to Capitol
But the two wind farms planned for Bush's ranch may never come. A measure being considered by the Oklahoma Legislature — Senate Bill 1440, authored by Sen. President Pro Tempore Brian Bingman, R-Sapulpa — would impose a moratorium on new wind-energy projects east of Interstate 35. The blackout would last until 2017, and the state would conduct wind-energy studies in the interim.
Rep. Earl Sears, R-Bartlesville, is the bill's House sponsor. There are no wind farms planned for Sears' northeastern Oklahoma district, but projects have been planned for neighboring counties.
Osage County could be home to a pair of 150-megawatt wind farms. St. Louis-based Wind Capital Group wants to build a 94-turbine farm called the Osage County Wind Energy Project, and Kansas-based Trade Wind Energy is planning a 16,000-acre site dubbed the Mustang Run Wind Project. In Craig County, EDP Renewables North America — a subsidiary of Lisbon-based Energias de Portugal — is planning to build a 59-turbine wind farm near Centralia.
"Wind should be the new oil for Oklahoma," Bush says. "It's good for the state economy, it's good for the environment, it's good for living things in Oklahoma. I don't understand why the politicians aren't really embracing it."
Wind Resistance
Joe Wertz / StateImpact Oklahoma
A wind farm in Ellis County in western Oklahoma.
Wind energy is a newcomer to northeastern Oklahoma, but wind farm projects have met vicious resistance even in western Oklahoma, where they're a lot more common. Currently, wind-energy projects are relatively unregulated by the state, so local governments like the City of Piedmont have wrestled with rules and ordinances, and acrimony between those who want to sell leases and those who don't want to live near turbines.
Wind farm opponents are often vocal and well-organized. In northeastern Oklahoma, landowners formed a group called the Oklahoma Property Rights Association to oppose wind farm development there. Rep. Sears says neither side has been shy about contacting him to share their concerns.
"I am all about property owners and property rights. But on the same token, this just isn't a typical little building out in the backyard or on the prairie-side," Sears says.
Decreased property values and the nuisance of living with the noise and flickering shadow caused by whirring turbine blades are among the top concerns voiced by wind farm opponents. And some worry about the impact wind farms could have on birds and other wildlife.
The potential threat that spinning turbine blades could pose to eagles spurred controversy last year in Osage County, particularly within the Osage Nation, which opposed Wind Capital Group's effort to seek a permit from the U.S. Fish and Wildlife Service to kill up to 120 eagles during the lifespan of the wind farm.
Sears says landowners and lawmakers also worry there won't be enough wind to sustain wind farm projects, which could mean turbines blocking vistas without generating royalty payments for landowners.
"The wind blows on the eastern part of the state, don't get me wrong, but I don't know if it blows enough to generate and hold profits for a wind power company," Sears says.
Related
Posts
Topics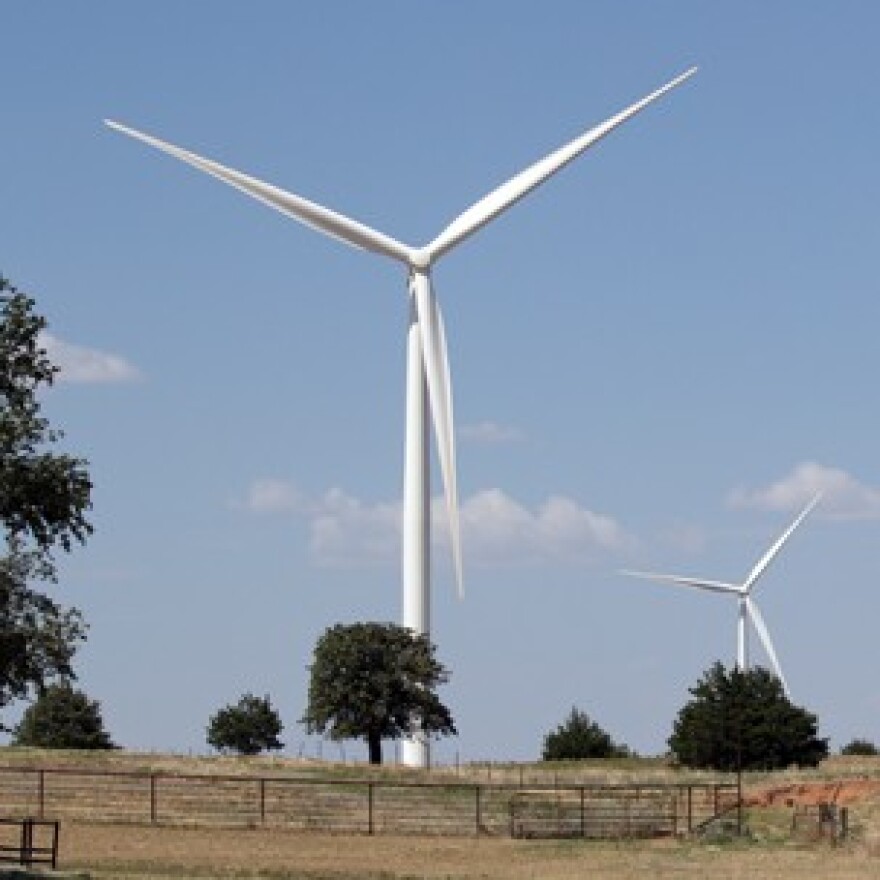 Wind Energy: Electricity and Economic Potential in Oklahoma
A separate measure under consideration this year, SB 1559, written by Sen. Cliff Branan, R-Oklahoma City, would address some of those concerns by establishing setbacks and noise limits, as well as strengthening rules on turbine decommissioning. The 2014 legislative session is ongoing, so it's likely the specific language of the wind-energy bills will change. And, like all bills, there's a possibility they might never reach Gov. Mary Fallin's desk.
The ranks of the wind farm opponents include Oklahomans who own land near Bush's ranch in Osage County. Bush thinks aesthetics alone are fueling his neighbor's protests.
"Really what it boils down to is he doesn't want to see it," Bush says. "It's new."
Rep. Sears says he hasn't seen a wind turbine up close, but he's among those Oklahomans who aren't wild about the way they look.
But Bush says the state shouldn't prevent him from making money from the resources his ranch provides, and his neighbor shouldn't have any say over what he does with his private property.
"I don't tell him what to do with his ranch," Bush says. "I should be allowed to put up a turbine. If he doesn't want to see them — don't look. I think they look cool."
Copyright 2021 StateImpact Oklahoma. To see more, visit StateImpact Oklahoma.